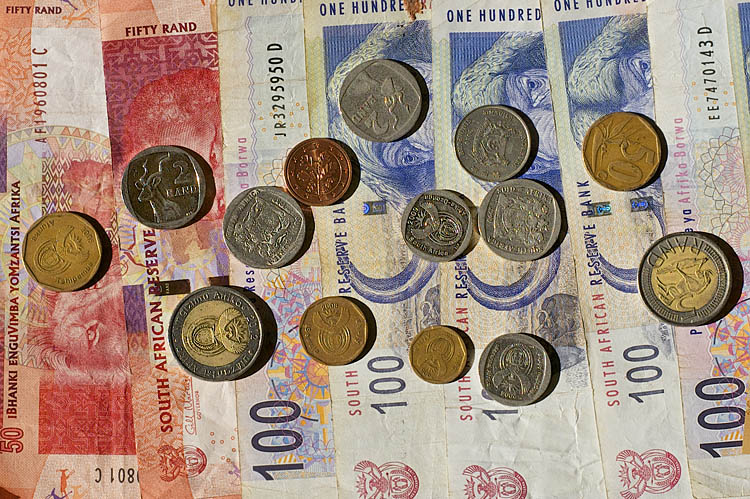 South Africa: Money, Currency and Rates
Information about currency in South Africa, payment options and currency exchange
Currency, Money
The South African currency is the Rand (symbolized by an R before the amount). A hundred cents is 1 Rand. There are notes in different colors for R10, R20, R50, R100 and R200. 1, 2 and 5 cents coins are made of copper. 10, 20 and 50 cents brass coins. R1, R2 and R5 are silver coins.
Credit cards
Credit cards are the easiest way of payment in South Africa. Visa and Master Card are particularly widespread. In most restaurants and shops you can use it for cashless payments. Even small amounts can be paid with it.
You can now also pay by credit card at most petrol stations. To be on the safe side, you should have some cash with you.
Currency Exchange and Banks
Only a few shops and restaurants accept foreign currency. You can either exchange money at banks or withdraw money with credit cards. You have to present your passport for this, even if you exchange cash! Most banks are open Mon-Fri from 09h00-15h30 and Saturday from 09h00-11h00.
The exchange of cash is quite time-consuming. Therefore we recommend:
ATMs
With every card card with MAESTRO – sign or credit card, you can withdraw cash at many ATMs very simply to favorable conditions. After entering the 4-digit PIN, you can get up to 4,000 Rand daily at the current rate, depending on the financial institution. The bank plates are blocked from 0.00 h to 08.00 h for the cash procurement by means of EC-Card!