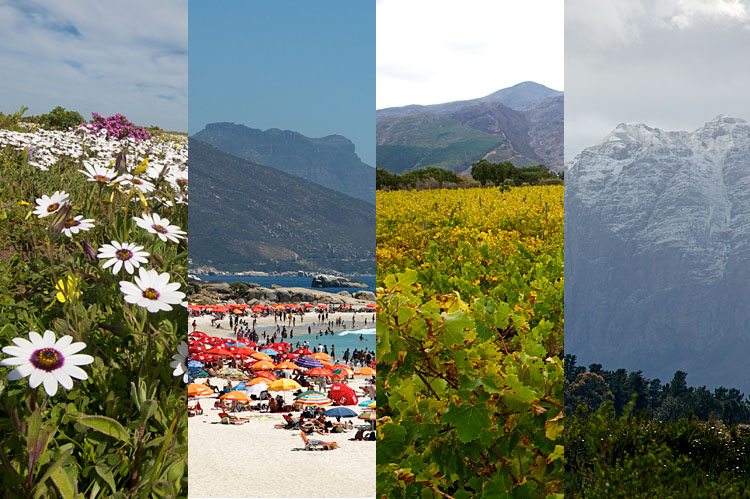 Weather and Climate in South Africa
Weather in Cape Town, Somerset West and surrounding area, clothing tips
The seasons are not as distinct as in Europe, but here at the Cape we also have spring, summer, autumn and winter.
The Cape has a typical Mediterranean climate with warm, dry summers and mild, wet winters. On average, temperatures range from 17° C in winter to 27° C in summer. These are average temperatures and it can be both colder and warmer on some days during all seasons. Further in the country (away from the ocean) it is on average 3 – 5°C warmer.
In winter temperatures can drop to 5°C at night, with maximum temperatures during the day at around 18°C, but occasionally we have over 20°C and summer temperatures. Sometimes there is snow on the higher peaks of the Boland and Cedar mountains.
Best time to travel:
Which travel time is optimal for you depends on your expectations and requirements. If you prefer hot summer weather and like water activities, you should choose the months January and February. The months before and after are also very nice. The weather is usually warm in summer and the precipitation is not so high. The months of August to October are particularly rich in flowers. Whales come to the South African coasts from July to mid/end of November.
Clothing
In summer light summer clothes are usually sufficient. In the evening it can cool down considerably, especially in the months April to October. A warm sweater, a jacket and long trousers are always a must. A thin rain jacket or a windbreaker are also recommended. Outside the hottest months of January and February, it can get very cold in the evenings on open Land Rover safaris.